The Dads at a Distance web site has been designed to help fathers who are
business travelers
military men
noncustodial fathers
airline pilots
travelguides
traveling salesmen
railroad workers
truckers
professional athletes
musicians/entertainers actors
corporate executives
&
any other fathers who have to be away from their children
to maintain and strengthen the relationships they have with their children while they are away.
For 320 ideas to stay in touch with your child click here
to buy Dads At A Distance from Amazon.com or to buy in bulk for as low as $2.05 per copy call 866 321 2665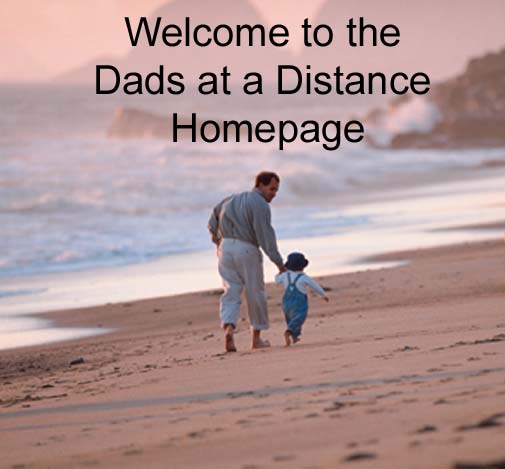 Explore Our Website
An Opportunity to Strengthen Your Relationship with Your Child
Relationships with children are much like plants, they need constant nourishing. At home, this type of nourishment comes easily through the activities and time spent with your children. However, when you are away this becomes more difficult to accomplish.
This is why we have built this website for long distance dads. It takes a lot of time and effort to think of fun and creative activities that you can do at a distance with your kids. And extra time isn't something that a lot of us have. We hope you will use these activities and share additional activities that you do with your kids. We can then post the activities on our site for the benefit of other long distance dads.
Visit Our Other Long Distance Relationship Building and Marriage Strengthening Websites
Healthy Marriage Weight Loss Program Healthy Weight Loss and Marriage Strengthening Tips

HealthyMarriageTips.com These marriage strengthening pamphlets can teach you how to form and sustain a healthy marriage and contain great marriage tips.

Coupons4dates.com Fun date ideas, relationship strengthening tips and date coupons if available in your area.
Receive a Weekly E-mail Activity/Reminder

We know how hectic life can be in the middle of the week. Sometimes the last thing on your mind is nurturing the relationships with your children who are at a distance. This is why we are offering an e-mail reminding service. Each week we will send you a quick reminder to do one of the long distance activities that day for your child. In addition, we will send a suggestion or two that usually takes 5 minutes or less to complete. If you are interested please sign up by clicking here.

For a few examples from the e-mail service visit our sample e-mail activities page.
One example of how this service has helped one father.
Dear folks at "daads",
I just want to seize the opportunity to tell you how much I appreciate your
service. I live more or less apart from my daughter (13) and, although I care very much for her, your weekly suggestions have helped considerably to sharpen my awareness of how important keeping up contact is.
Thank you so much,
Robert
Vienna, Austria
For other examples and comments, visit our examples page.